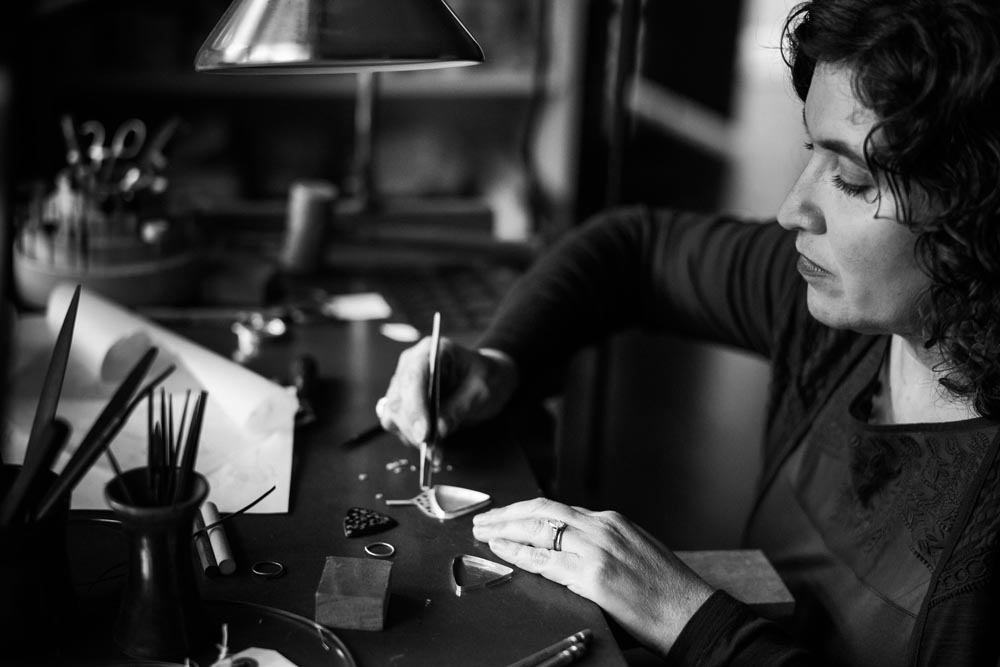 "My imagination is intrigued by the process of fusing and forming an idea into a piece of wearable art." — Talin Keyfer
Talin Hohn, Metalsmith and Enamelist
I grew up in Atlanta in an environment that supported my artistic journey.  I spent my childhood drawing and painting and at 17, I took a cloisonné class taught by master enamelist, Ricky Frank.  After the class, I worked as his apprentice every summer and holiday while in college. 
I graduated from Agnes Scott College with a degree in Art History and took my first official art class at Georgia State in metalsmithing.  My instructor, Richard MaFong, taught me that metal was a viable art medium with limitless possibilities.  My father, an architect, played a strong role in my life.  Metals allow me to explore my architectural influences by designing and building structures to support my cloisonné/enamel pieces.
My other medium, enamel, lets me play with light, color and dimension.  When glass flows and fuses to metal it is an amazing and humbling process.  I am not in complete control of a piece but a witness to the life it has.  I love that enamels surprise me and I respect the history of the medium while exploring its contemporary possibilities. 
Artist statement
Art gives form to the imagination, for the creator, the voyeur and in the case of jewelry, the wearer.  My imagination is intrigued by the process of fusing and forming an idea into a piece of wearable art.  I use grains of glass, precious metal and stones to study light, line, color and form in a single expression of adornment. 
My inspiration comes from the world around me, the curve of a cheek, the detail of a carving or the bend in a branch.  And inspirations for color, the possibilities surround me.
Jewelry has been worn for 75,000 years and the earliest examples of cloisonné date back to the Byzantine Empire.  I love that my work is worn.  It goes out into the world and adds beauty and interest to the person who wears it.  And the wearer becomes the Gallery for my art.
talinkeyferjewelry@gmail.com
864-353-1455